There are lessons that have substantially changed my thinking. Moments where the Lord has taught me important truths about Him and about redemption. One thing that I have learned over and over about the Lord's design is that there is always hope in the most broken circumstances. Even sin and absolute ruin is redeemable by God. Not just redeemable though…made beautiful and whole again.
I once heard Paul Washer say that if you followed him around long enough, you would wonder if he knew Jesus. I might be butchering his exact words but his point dealt with his knowledge of his absolute depravity and the beauty of redemption in Jesus. I know this all too well. All day long I seem to battle a very real war that rages between the desires of my flesh and God's Spirit within me.
At times, more often than I care to admit, my flesh wins out and occasionally from that choice comes ruin.
I have also seen the effect of ruin in my life from circumstances that have come upon me through no fault of my own, like my brain injury last year. As a result of it, I have found that some people don't see me the same, mistaking my symptoms of damage as weakness of faith.
I struggle with accepting the very visible fall that I experienced in front of people, knowing that only those closest to me, those who experienced my injury and the Lord, know what it's like to suffer the way that I did. I must be content with God's choice and trust Him in light of what He has permitted – that is faith.
Whether it is from our own sin or the brokenness of a fallen creation, we will feel the power of ruin in our life.
Where do we go when it becomes too much to bear?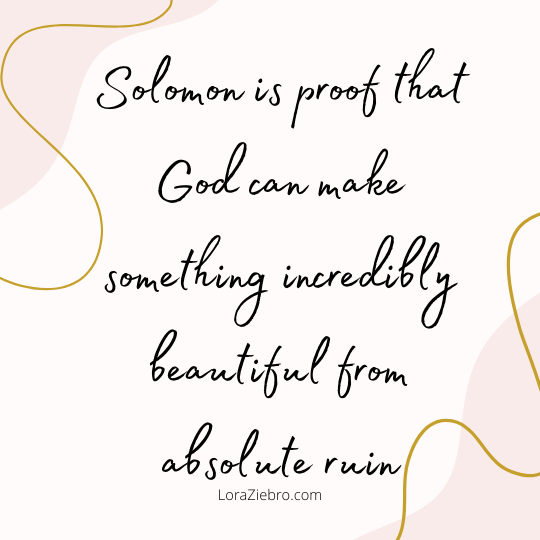 When you look at the Bible, from Genesis to Revelation, hope and redemption are interwoven with every story. I don't care who you are, where you are at, or what you have done, the Bible has a story of hope that you can identify with.
This is because the Bible doesn't profile perfect people … only a perfect God.
And what it promises is that in Jesus, ruin is never the end of our story.
One of my favorite examples though is that of David and Bathsheba. From David's sin and ruin, Solomon was born.
From Solomon, 3,000 proverbs and 1,005 songs were created (1 Kings 4:32). He excelled in wisdom and judgement, ruling God's people with a heart that beat after the Lord. He built the Temple of God. But make no mistake, it was God who did a great thing in his story, taking something that should not have been, and giving it purpose and beauty.
This is our story as believers. We are children from something that should not have been and in Jesus, God is speaking hope over our lives. We are not less, in Jesus we are more.
"For we are his workmanship, created in Christ Jesus for good works, which God prepared beforehand, that we should walk in them." (Eph 2:10)
Dear believer know that God is present and with you, especially in the darkest moments and most difficult hours. He does not forsake us. Hope is our possession and redemption is our identity. Live for His glory, He is worthy. Amen and amen!